Don't want to lose data because of claustrophobic participants, movement, or task related errors?  Use the MRI Simulator to prepare your participants and acquire the best possible data!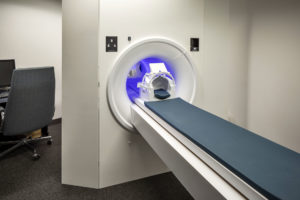 MRI Simulator
Users of the York MRI Facility have access to the MRI Simulator, located in Sherman Health Science Research Centre.  It was purchased from Psychology Software Tools through a grant awarded to Dale Stevens.  The MRI Simulator offers real-time motion tracking with immediate feedback to participants, pre-recorded MRI scanner noises, response boxes matching those in the MRI scanner room, and a bore size identical to the real MRI.
Training sessions for proper use of the MRI Simulator and its tools are available upon request.  The MRI Simulator is booked using a Google Calendar.  Please contact the MRI Technologist to be invited to share the Google Calendar.